For some developers archaeology is looked upon as ground pollution to be removed as quickly and as cheaply as possible.

SWAT Archaeology works with clients to overcome this perception and to minimise disruption to developments at a cost which is seldom more than 1 to 2% of the overall budget.

It is essential to involve SWAT Archaeology at a very early stage of the development as part of your management team. Once there are indications from the planners that an archaeological condition will be part of the planning permission, mitigation strategies can be applied. Indeed it is possible when purchasing property or land for your solicitors to attach a condition to the contract that the cost of archaeology will be deducted from the purchase price. For further information on this aspect we recommend you contact the commercial property team at Furley Page LLP (www.furleypage.co.uk)

SWAT Archaeology operates commercially using highly experienced and motivated core staff and archaeological sub-contractors who are the very best people in their field. We are not a charity or trust.

We much prefer not to talk about day rates - although they are the best in the business - but to promote awareness with clients that there can be more than one solution to an archaeological project with the focus on what is good for the archaeology, but never losing sight of even what is cost-effective for the client.

Every industry uses specialist words or phrases which are not always understood. In archaeology most procedures have a term which may not be familiar to you. The most common are:

'Archaeological Evaluation'
Archaeological evaluation involves digging trial trenches to sample a site to determine whether archaeological remains are present and, if so, to assess their character, extent, date, condition and potential importance. The evaluation will aim to determine, as far as is practicable and without compromising the integrity of important archaeological deposits, the full sequence of past events at the site, including information on the 'natural' substrate and soil conditions.

'Strip, Map and Sample'
This means removing the topsoil or overburden by machine and mapping any archaeology that is revealed. This allows us to establish a phased plan of the chronology of the exposed archaeology and to excavate key features to an agreed excavation sampling strategy.

'Watching Brief'
A programme of observation by an archaeologist during construction works.

'Non-intrusive Survey'
Geophysical survey, or surface artefact collection (field-walking) survey.

Any of these procedures might be required when you see the following condition on your planning permission:


"No development shall take place until the applicant, or their agents or successors in title, has secured the implementation of a programme of archaeological work in accordance with a written scheme of investigation which has been submitted to and approved in writing by the Local Planning Authority".
So if you have the above statement attached as a condition to your planning permission give us a call right away, and not the day before you begin work!

We look forward to hearing from you.

Dr Paul Wilkinson, Director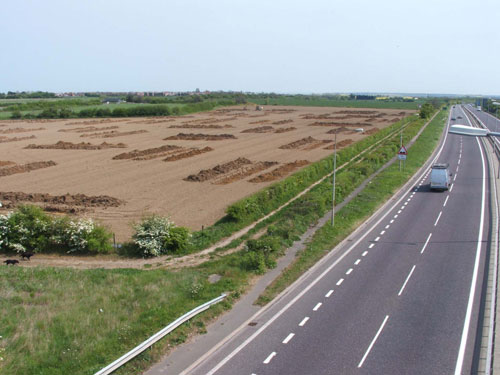 An evaluation trench Evaluation trenching of about 4% of the development site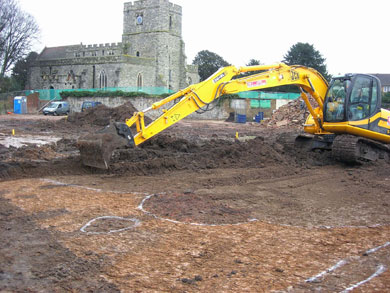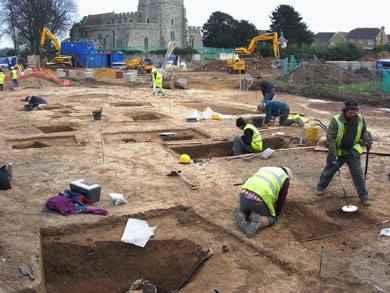 Area strip, map and sample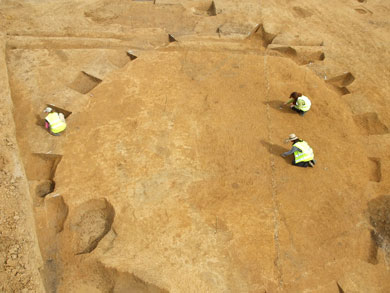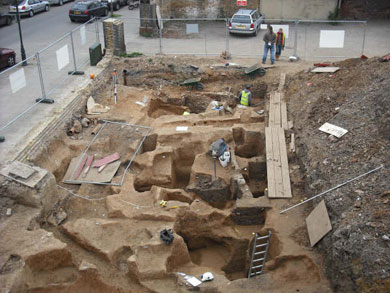 Occasionally complete excavation Especially if an urban site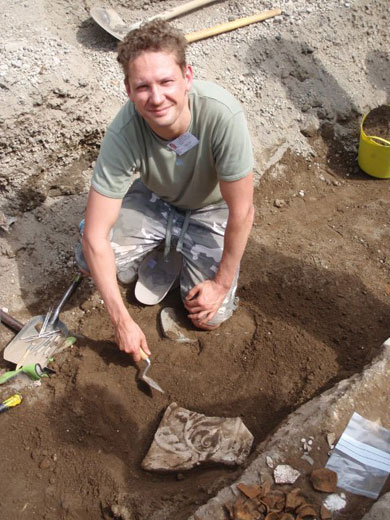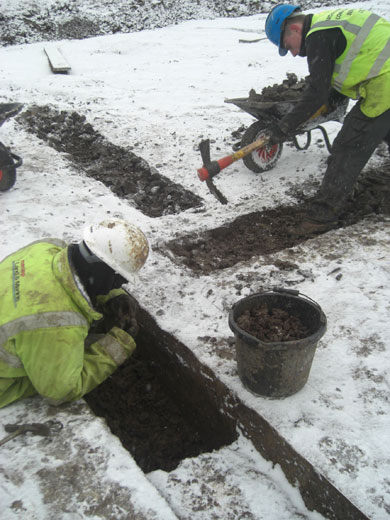 We work from the extreme heat of Pompeii ... to the cold of Kent


The Swale & Thames Survey Company Reports
Please find our library of reports below. All files are in Adobe Reader format (pdf). In the unlikey event that the file isn't recognised by your computer, please download Adobe Reader for free using the links in the tables below. For further information on any of the documents, please contact Dr Paul Wilkinson using the details at the bottom of the page.








---
Swale and Thames Archaeological Survey Company
The Office, School Farm Oast, Graveney Road, Faversham, Kent ME13 8UP
Tel: 01795 532 548, Fax: 01795 591731, Mob: 07885 700112, Email: info@swatarchaeology.co.uk

website created and hosted by sinful design